Published Sunday, December 2, 2001
MUSICAL TOILET PAPER ROLLER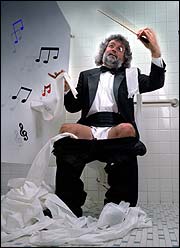 Sit back, relax, and perhaps sing along to the two ballads played on the Musical Toilet Paper Roll.
---
$4.95 plus shipping and handling from Deer Creek Products, 3038 NW 25th Ave., Pompano Beach, Fla. 33069; 954-978-0597. Allow 4-6 weeks for delivery.
For hundreds of years, the human race has had music, and the human race has had toilet-paper rollers. But it is only recently that we have been able, thanks to technology, to realize the dream of bringing these two things together.
The result is this ``high-tech'' gift concept: A roller that, according to the catalog we ordered it from, ``plays two relaxing ballads whenever you unroll tissue.''
``Enjoy listening to the great music of Love Story and Love Me Tender,'' states the catalog, adding that this item is a ``great conversation piece.''
We're sure it is. We're picturing a cocktail party where, whenever anybody has to use the commode, the whole gang crowds into the bathroom to talk about this item, and perhaps sing along with the two relaxing ballads.
If this item does not epitomize the expression ``$4.95 worth of class,'' then nothing does.