Published Sunday, December 2, 2001
''HEAD TRIP'' SCALP MASSAGER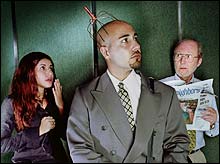 Need relief from the pressures of everyday life? Try the 'Head Trip' scalp massager. Its compact size allows you to use it just about anywhere.
---
$17.50 plus shipping and handling from The Happy Company, 31055 Huntwood Ave., Hayward, Calif. 94544; 1-800-486-2896; Internet: www.thehappycompany.com.

Suggested by S. Duncan of San Jose, Calif.

If there is anything more relaxing than having your scalp probed by what appears to be a small hand-held pitchfork, we frankly cannot imagine what it is. That is why we are so excited about this gift item, the Head Trip scalp-massage device.

This product is made from the finest quality of bent wire. According to the literature that accompanied it, the Head Trip is ``well on its way to becoming an international fad sensation.'' The literature also states that this product was originally marketed in Australia under the name ``The Orgasmatron,'' which raises some troubling questions in our mind about the physiology of Australians.

Nevertheless, we believe that this is the perfect gift for the busy person who needs relief from the pressures and tensions of modern life. Picture it: You're on a cross-country airplane flight, feeling tense after a hectic business day, so you reach into your briefcase and whip out your Head Trip. In just moments, you are experiencing the unique sensation of being jumped on violently by alarmed fellow passengers. So forget that idea. But the Head Trip is perfect for anywhere else you feel the need to give your head a relaxing massage -- in business meetings, on the golf course, while driving, or at the opera.

We cannot prove this, but we suspect that this product may also enable you to receive radio signals directly into your brain. It would not surprise us to learn that Mr. Dan Rather is a longtime user.