Published Sunday, December 2, 2001
CAMOUFLAGE DUCT TAPE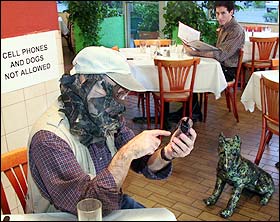 Get some Camouflage Duct Tape and sneak your dog into that snooty restaurant, and keep that cellphone in plain sight. No one will see them. And, to make sure no one will recognize you if the dog barks or the phone rings, be certain to pick up the Total Illusion Camouflage Mask.
---
$9.50 plus shipping and handling from L.L. Bean, Freeport, Maine 04033; 1-800-229-9179, Internet: www.llbean.com.

Suggested by Jeanette Goss of Milwaukee, Wis.

Over the years, we have featured many fine camouflage items in the Holiday Gift Guide, including camouflage baby clothing and camouflage women's underwear. These items come from catalogs for the sportsperson community, whose members love to wear camouflage clothing, apparently believing that it makes them blend unnoticeably into the environment, whereas in fact it makes them look like large walking vegetables.

But the point is that camouflage is very popular with sportspersons, and if you have one on your gift list, he is sure to love this camouflage duct tape. This product enables the sportsperson to apply the camouflage ``look'' to anything he can wrap tape around -- a car, a dog, an elderly relative, anything. It might even work on ducts, although it would be wise to check with the manufacturer before trying something as wacky as THAT.
TOTAL ILLUSION CAMOUFLAGE MASK
$12 plus shipping and handling from L.L. Bean, Freeport, Maine 04033; 1-800-229-9179; Internet: www.llbean.com.
Suggested by Jeanette Goss of Milwaukee, Wis.
This gift would make a nice complement to the Camouflage Duct Tape for the sportsperson on your list. This is an attractive yet functional pair of goggles with a camouflage mask that hangs down over the face, thus enabling the wearer to blend invisibly into the background, providing that the background is a bunch of sportspersons who are also wearing this mask.
This is also a great ``gag'' item to wear while going through airport security checkpoints, where it always gets a chortle from members of the National Guard, as they switch their weapons to full-automatic mode.
CAMOUFLAGE CELL-PHONE HOLDER
$9.99 plus shipping and handling from Herter's, P.O. Box 426, Greenville, N.C. 27835; 1-800-449-3558; Internet: www.herters.com.

This is a ``must-have'' accessory for the sportsperson who is out in the wilderness, on his own, far from civilization, with nothing to keep him alive but his skill, his strength, his cunning, and his cellular telephone.

This is a camouflage cover that goes over the phone, thus rendering it invisible to prey. So, for example, a deer might HEAR the sportsperson's cellphone ringing, but since the deer can't SEE the phone, it does not suspect anything. It continues to quietly munch forest vegetation until the sportsperson can complete his phone call. And then ... BANG!

This item can also be used in urban area to conceal your phone in movies, concerts, and other places where cellphone usage is prohibited. People will see you talking, but since they can't see the phone, they simply assume you are talking loudly to yourself. And then ... BANG!