Published Sunday, December 2, 2001
SWANK MALE LOUNGING ATTIRE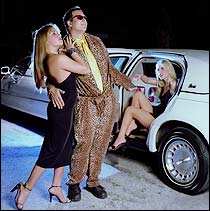 Whether he wears the gold shirt and tie or the Leopard Snuggler (above) or the fabulous fuschia thong, Swank Male Lounging Attire will help any man make a definite fashion statement.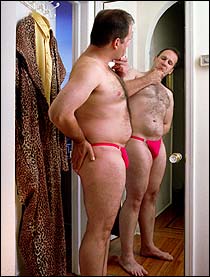 ---
Gold Shirt and Tie $29; Leopard Snuggler $59; Fuchsia Thong $10; plus shipping and handling from International Male, Order Processing Center, Hanover, Pa. 17333-0075; 1-800-293-9333; Internet: www.internationalmale.com.

There is a certain kind of man who wears a certain kind of ``look'' -- a look that makes the fashion statement: ``I frankly cannot get over what a studly hunk of beefcake I am.'' We are talking about your ``swinger,'' your ``Mac daddy,'' your charter Maxim subscriber, your Love Cruise contestant, your ``cool cat'' who is always ``on the prowl'' for babe-a-licious females.

If you have such a male on your holiday gift list, you will want to give him these unique apparel items from the collection of International Male. He is sure to ``shine'' in the shirt-and-tie ensemble, consisting of a gold shirt, tastefully accessorized by a gold tie, both of which appear to be fabricated from genuine party-balloon-grade Mylar. This ensemble literally reeks of ``class,'' and is bound to catch the eye of that ``special lady,'' possibly damaging her retinas.

And what kind of leisure attire does our international male wear when he is lounging around his ``crib?'' He is enjoying the comfort and style of this genuine leopard-print ``snuggler,'' with the big ``V'' cut in the front so that he can, at all times, with no wasted motion, admire his chest and abdominal muscles. For active beach wear, he can slip into the European thong-style bathing suit, which provides all the comfort, style and coverage of a No. 8 rubber band.

Although the International Male fashion line is designed primarily for the younger ``dude'' who is in ``buff'' physical condition, we believe that these items would make great gifts for ANY male on your holiday gift list -- even Dad! Just picture it: After a hard day at the office, Dad comes home, slips out of his suit, and slips into his snuggler and thong ...

On second thought, maybe you should stick with cologne for Dad.